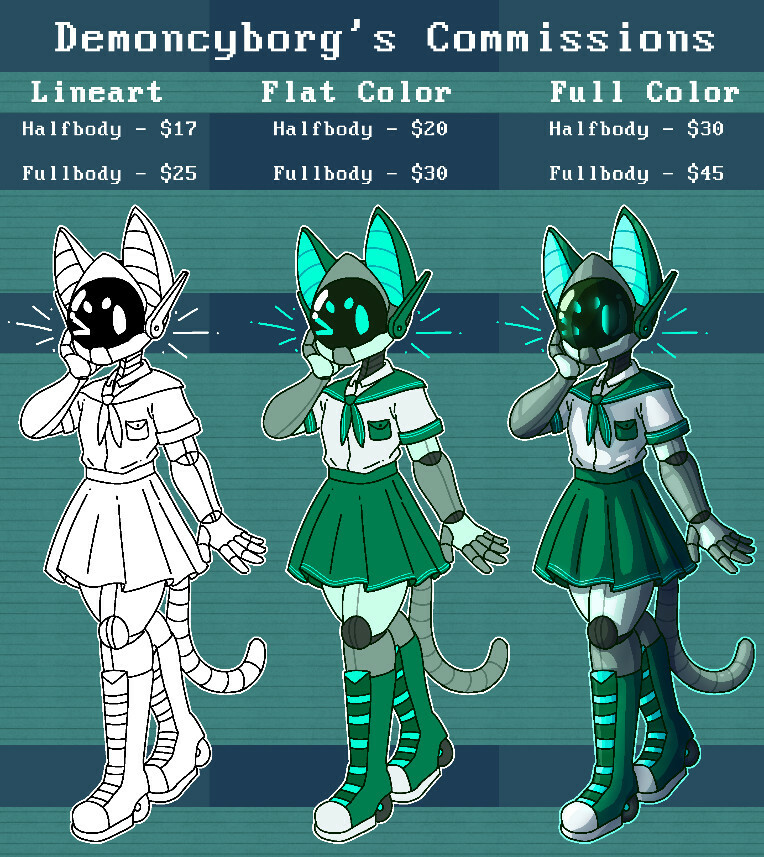 Demoncyborg's Commissions
---
Lineart
Half body - $17 [+$15 per extra character]
Full body - $25 [+$20 per extra character]
Flat color
Half body - $20 [+$15 per extra character]
Full body - $30 [+$20 per extra character]
Full color
Half body - $30 [+$20 per extra character]
Full body - $45 [+$30 per extra character]
Reference
---
Additional things
NSFW Pricing
Nudity - +%15 of total price [example, $17 becomes $20]
Sexual acts - +%20 of total price [example, $60 becomes $72]
Alternate versions [must be requested before payment]
+$5 for small clothing/character changes 
[removing a helmet or article of clothing]
+$10 or more for anything larger 
[different outfit, big physical change]
Not having a drawn reference*
+$5 if you only have an unconventional visual ref 
[in game character, sprites, ect.]
+$10 if you have no visual reference
+$20 if you want help designing your character
*The reason this is here is because during the sketch and coloring I'll likely have to make many changes to fit how you'd like your character.
If you have a drawn image of your character, you likely won't have to worry about any of this.
I will not draw:
Underaged characters
Racist, sexist, or transphobic imagery, actions or text.
I won't replicate other styles
If you're unsure about anything, just ask.
I will draw:
Furries
Robots
Armor
Just about anything!
---
I will send pictures of the sketch and lineart as I go unless specifically requested not to. During the sketch you are fully permitted to ask for big changes, but once I move to lineart or coloring, please try to keep it small, or I will have to deny or add additional costs.
Contact information
Discord: Demoncyborg#3000 (Very much preferred method of contact)
Twitter: @Commodorebeeps
E-mail: Demoncyborg@outlook.com
Paypal is required, and payment must be up front. I will send you an invoice once the commission is agreed upon.
I will not refund unless I haven't drawn anything yet or a problem was encountered during payment.