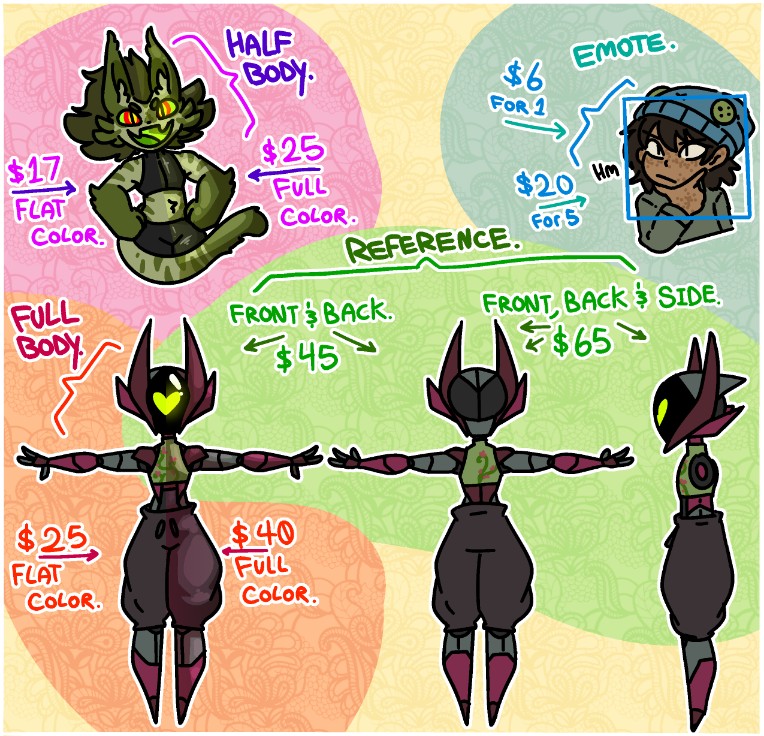 (TEMPURA AND HIGHER TIER PATRONS GET 20% OFF OF ALL COMMISSIONS!)
Flat color:
Half body: $17 (+$15 per extra character)
Full body: $25 (+$20 per extra character)
Full color:
Half body: $25 (+$20 per extra character)
Full body: $40 (+$25 per extra character)
NSFW prices:
Nudity: +15% of final price. ($17 becomes $20, ect)
Sexual acts: +20% of final price.
Reference prices:
Front & back: $45
Front, back, side (*and top): $65
*optional
Emote prices:
One emote: $6
Five emotes: $20
Animation prices:
Alternate versions:
Depends on the drawing, but usually adds about $5.
MUST be requested while we discuss payment.
(Examples: Nude version, alternate clothing, coloration.)
I will not draw:
Pedophilia (I will call the cops!)
Characters without any drawn or solid reference. (If it's something simple, or you have plenty of images to help, we can negotiate.)
Deliberately racist, sexist, or transphobic imagery and actions.
Ask if you're unsure about anything.
I will send my progress to you over DMs unless you ask me not to. During the sketch you are fully permitted to ask for big changes, but once I move to lineart or coloring, please try to keep it small, or I will have to deny or add additional costs.
Contact information:
Steam: Commodore Beeps
Discord: Demoncyborg#1979 (buisness only please!)
Paypal is required.
Refunds will not happen unless a mistake is made during payment.
Prices can be negotiated for certain things or bulk orders.